...And the winner squares off against
SATAN
!
Sound a bit over-the-top? It certainly should.
ABRA CADAVER: THE AFTERLIFE ADVENTURES OF HARRY HOUDINI is the title of my new book from Dead Dog Entertainment.
If you are a fan of pulp, horror, mystery or action-adventure--I think this is the book for you!
I could blather on forever--but rather than doing that, here's what others are saying about ABRA CADAVER:
"There's no escaping this one!" – Justiniano (Artist DC's THE CREEPER, DAY OF VENGEANCE)
"Abra Cadaver has it all; a diabolically devious plot cunningly constructed
by spirited writer MacPherson and magnificently realised by the artistic
thaumaturge that is Mr. Exes. Supernaturally good stuff!" - John Reppion & Leah Moore (Writers WildStorm's WILD GIRL, ALBION)
"Abra Cadaver rocks. Dwight MacPherson's take on Harry Houdini is inspired--investigating the afterlife, Harry talks himself into a one-way ticket to hell. Mr. Exes' art is a gruesomely delightful blend of horror and cartoony. Unique story, unique art."- Mike Baron (Writer NEXUS, PUNISHER, NIGHT CLUB )
"Love Mignola, EC Comics and Bernie Wrightson, but hate pretenders? Then Abra Cadaver is the book for you! MacPherson has put together an air-tight story filled with wit and intelligence not usually found in popular entertainment and Mr. Exes frames it all perfectly. Abra Cadaver is page after page of fun and Adventure." - Jose L. Torres (Writer Markosia's THE HUNGER)
"Dwight MacPherson has done something delightfully original which needs to be acknowledged as such by as many people as possible."- Comixfan
There is an advanced review
HERE
and an advanced preview
HERE
.
Issue 1 is now available for pre-order! Here is the pertinent information:

AUGUST PREVIEWS: PAGE 269
DIAMOND ORDER CODE: AUG06 3215
Issue 1 has been
CERTIFIED COOL
and we sincerely hope that you, the reader, deem this distinction justified.
Last but not least, here is the cover to the first issue by the amazing
David Hartman
. David is an illustrator, animator and producer. His latest creation was the "American Witch" video for Rob Zombie. He also worked on "Bubba Hotep." Check out his page--his credentials are quite impressive--as is his art.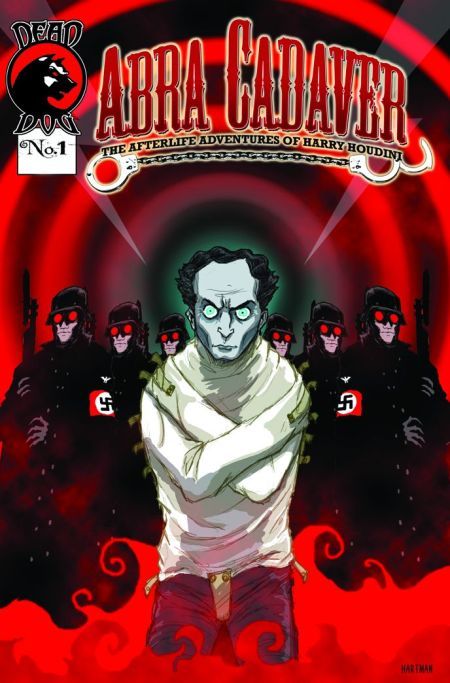 So please pre-order and check it out. You just may be amazed.